44 Best Cookout Food Ideas
I never thought I'd be so excited to share these cookout food ideas with all of you. But after spending last summer picnicking on our own, the prospect of inviting family and friends over and gathering around the grill sounds amazing. Warm...
Best Potato Salad
If you grew up in the Midwest, chances are that homemade potato salad was a fixture at every gathering you went to. At least, it was for me. Pale yellow and ultra-creamy, it had a permanent spot between the macaroni salad and the hamburger buns. No...
How to Make Scrambled Eggs
Scrambled eggs are one of the little luxuries of everyday life. When I make them, I savor every bite. They're soft and creamy, rich and flavorful, and they just so happen to cook in under 5 minutes. Seriously, how amazing is that" If you poke...
Creamy Asparagus Soup
On rainy spring afternoons, I hole up in the kitchen and make this asparagus soup recipe. It's my spring substitute for the butternut squash soup I love making in the fall. When it's too wet to be outside, I find it soothing and meditative to...
Artichoke Pasta
I got the idea for this artichoke pasta recipe a few weeks back, when my fridge was overflowing with spring artichokes. Jumbo ones, baby ones, and every size in between. One day, I had steamed a few of the large artichokes for this post, and after I...
Roasted Artichokes
I make this roasted artichoke recipe whenever I see baby artichokes at the farmers market or grocery store. I have a soft spot for anything mini – from cherry tomatoes and peppers to skillets and spoons – so whenever the little, purple-streaked...
Lemon Butter Sauce
Earlier this spring, I started making this lemon butter sauce to serve with steamed artichokes. Since then, I've started serving it with so much more – pasta, roasted veggies, couscous. It's deliciously buttery and rich, with a bright, savory...
Love & Lemons Cooking Club – May!
Last fall, I created the Love & Lemons Cooking Club to celebrate our wonderful community of readers. It's super simple – each month, I choose a recipe. You make it, and you email me a photo. At the end of the month, I randomly select one winner...
Pinto Beans
"I'm never buying pinto beans in a can again!" I told Jack last week, as I savored spoonful after spoonful of pinto beans straight from a pot on the stove. Maybe I was exaggerating (canned beans are darn convenient, after all), but I'll...
Mango Margarita
It's finally warming up in Chicago, so we're cooling off with this mango margarita! To me, it's the perfect warm weather drink – frosty, refreshing, and blissfully easy to make. Just toss 5 ingredients into the blender, puree until smooth,...
25 Taco Toppings for Your Next Taco Bar
On nights when I have a bunch of odds and ends in the fridge – minced cilantro, sliced chiles, a container of cooked black beans – I warm a stack of tortillas and set out a taco bar for dinner. It's a long way from traditional Mexican food, of...
Avocado Sauce
This avocado sauce is the perfect topping for these roasted cauliflower tacos. Or any tacos, for that matter. It's smooth, rich, and creamy, with a punch of bright flavor from lime. You only need 5 ingredients to make it, and it comes together in...
Roasted Cauliflower Tacos
When I opened Julia Turshen's new cookbook Simply Julia, I landed on a photo of these roasted cauliflower tacos. My first thought" "I want to eat that." After trying them, I think it's safe to say that you'll want to eat these cauliflower...
Stovetop Popcorn
What's a good movie night without a bowl of freshly popped popcorn"! With the Oscars coming up this weekend, I thought I'd share a recipe for the stovetop popcorn that Jack and I love to make at home. Heads up – this stuff is seriously...
What is Nutritional Yeast"
One of the most common questions readers ask me is, "What is nutritional yeast"". I get it! At one time, this funky, flaky yellow powder seemed like a totally out-there ingredient to me. But today, it has a permanent place in my pantry. I use...
Creamy Dill Sauce
This dill sauce recipe rose out of my favorite kind of cooking: the kind where you open the fridge, look inside, and cook with what you have on hand. A few weeks ago, I had a massive bunch of fresh dill leftover from making this avocado dressing,...
Asparagus Salad
Each year, I make this asparagus salad recipe to celebrate the arrival of spring…which, in Chicago, is usually later than you'd think. See, in all the years that we've lived here, it's snowed on Jack's April birthday. So when we have the...
Quick Pickled Radishes
If you opened my fridge right now, you'd see jars upon jars of these quick pickled radishes lined up inside. They're so pretty and pink that it's almost a shame to eat them. I love the vibrant patterns the radishes create against the glass,...
How to Cook Artichokes
A few years back, when I saw a fresh artichoke at the farmers market for the first time, I knew immediately that I'd be taking it home. It was so pretty, with its tightly packed petals and thick stem tinged with purple. How could I resist it" But...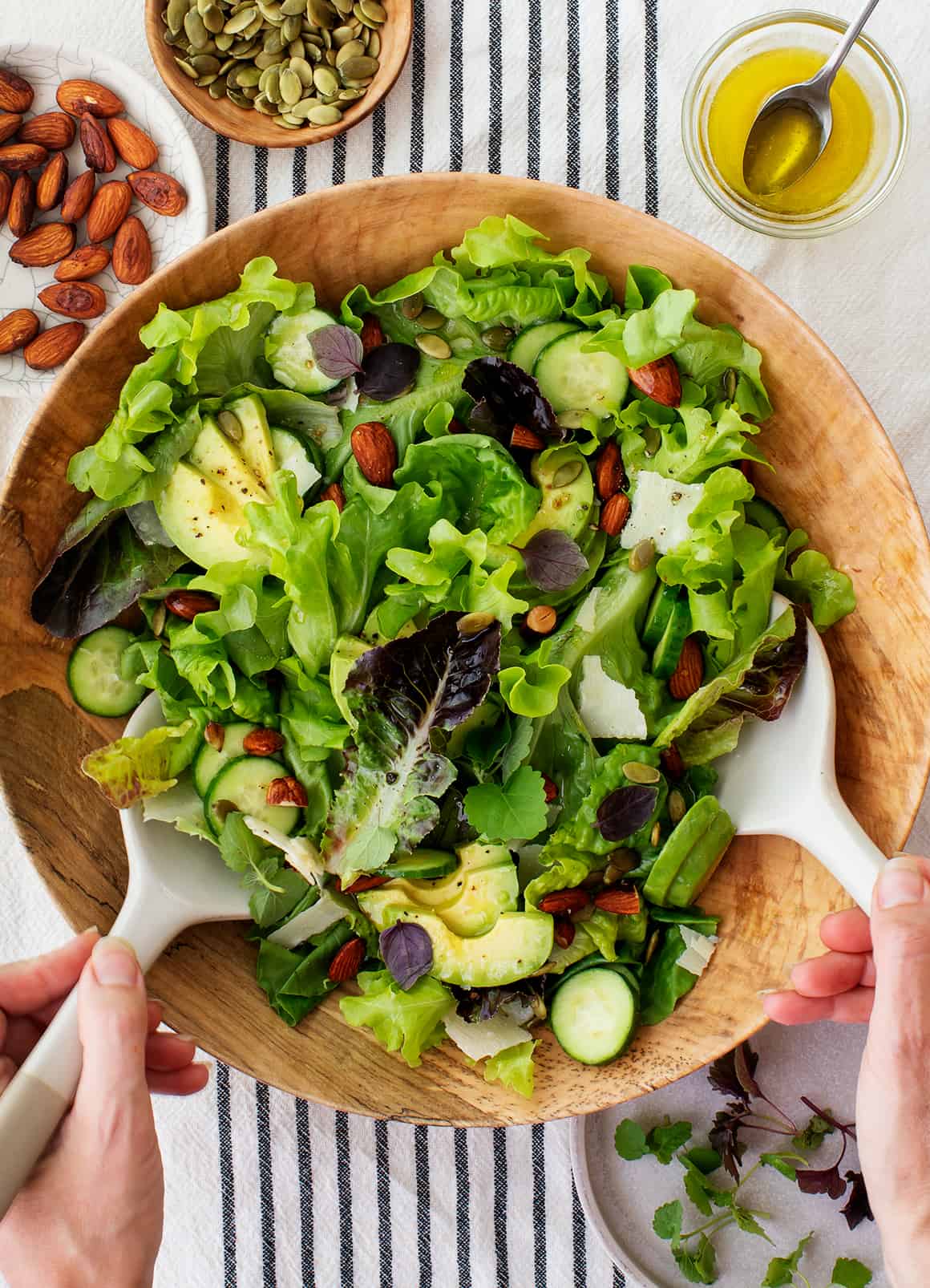 Simple Green Salad
We all need a good green salad recipe in our back pocket…which is why I can't believe that in almost 10(!) years of blogging, I haven't shared a simple green salad until today. That's not to say that there's a shortage of salad recipes on...
Artichoke Dipping Sauce
Is it just me, or is half the fun of eating artichokes the sauce you serve with them" This artichoke dipping sauce recipe has been a favorite of ours lately. It's creamy, rich, and tangy, a perfect savory accent for the bright, nutty artichoke...
Love & Lemons Cooking Club – April!
Last fall, I created the Love & Lemons Cooking Club to celebrate our wonderful community of readers. It's super simple – each month, I choose a recipe. You make it, and you email me a photo. At the end of the month, I randomly select one winner...