How to Cut a Watermelon
Step 1: Cut ends off of the watermelon. Step 2: Cut in half lengthwise, then cut each half lengthwise once more. Step 3: Make cuts 1-inch apart to create watermelon wedges. Repeat with the other halves of the watermelon....
Sticky Ginger Rice Bowls with Pickled Veg and Mango
This recipe is sponsored by ALDI Let me tell you about something that I capital L-O-V-E love to eat. It's a sticky ginger rice bowl with hot white rice, sticky-sweet meatballs with a little bit of kick, crunchy quick...
That's a Wrap: Highlights From The SOS Series
This series has been such a complete and total joy project for me. As a whole, this SOS series has far exceeded my hopes and expectations. But mostly YOU have far exceeded my expectations. Your comments, your photos, your emails and...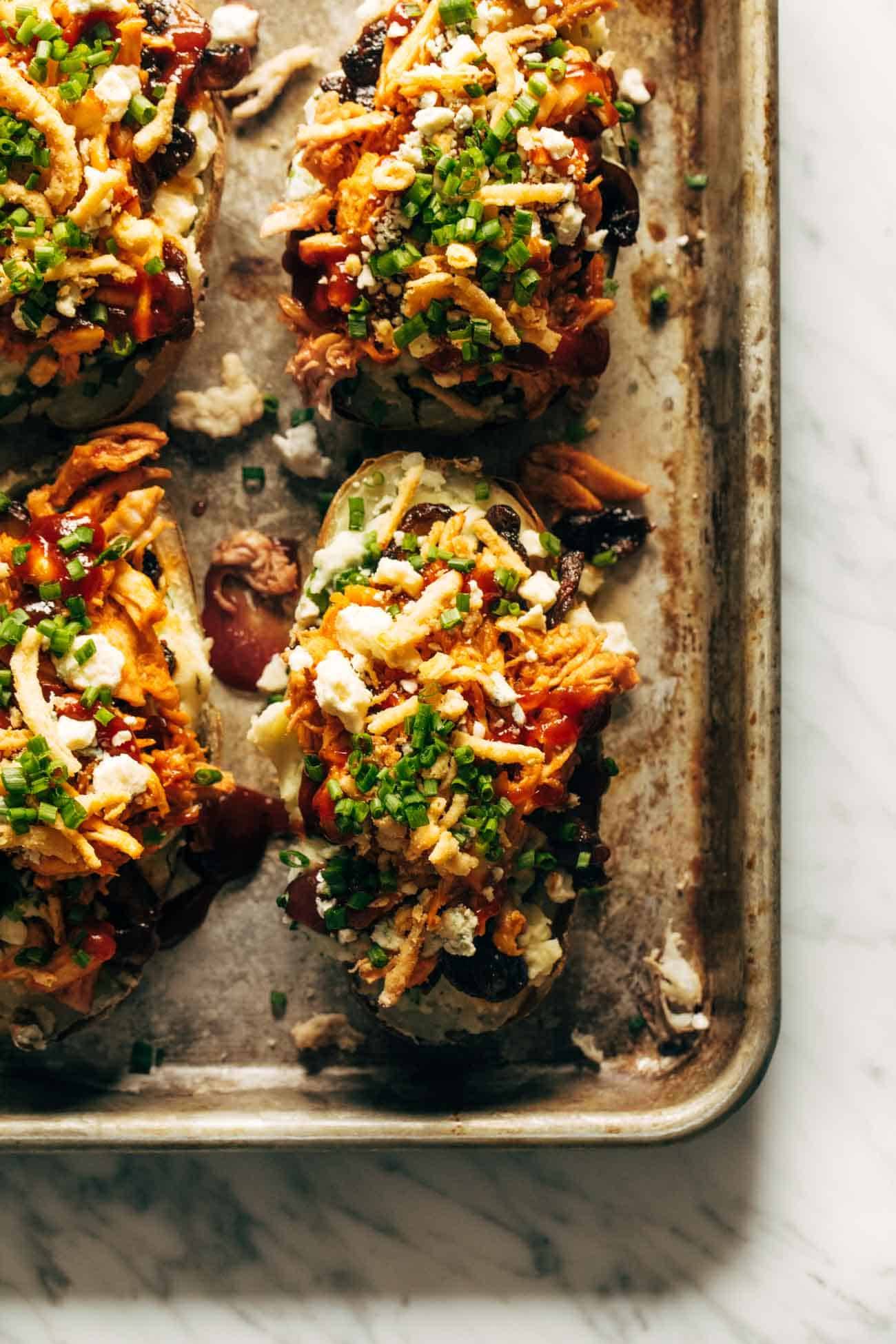 Loaded BBQ Baked Potatoes
Baked potatoes are just there for us, ya know" They come out of the oven hot and steamy, with the crisp skins and the super comforting potatoey insides, and they can shine with nothing more than butter and salt. But...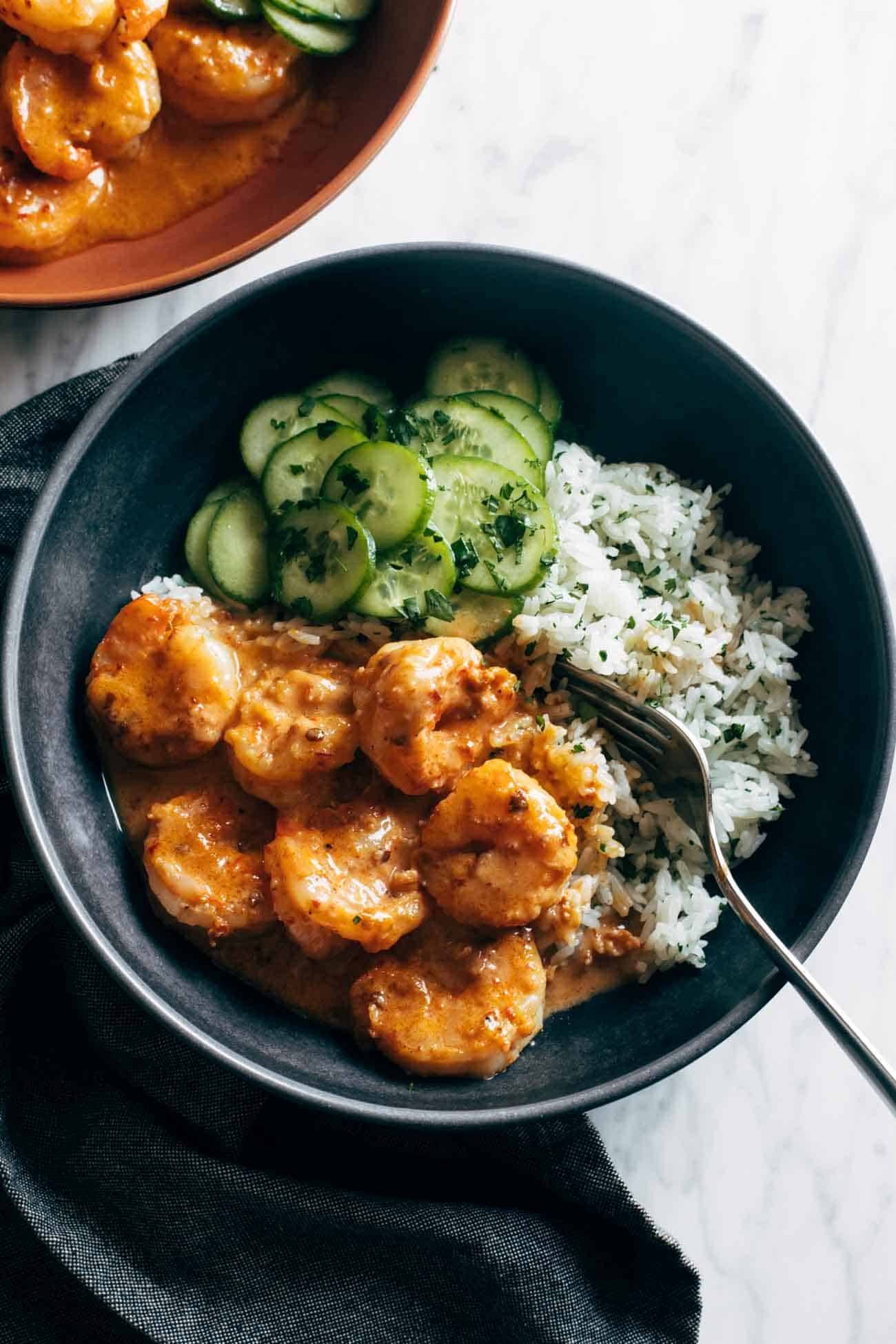 Chipotle Orange Shrimp with Cilantro Rice
Holy yummm. I love all of the SOS series recipes but I REALLY LOVE THIS RECIPE, all caps necessary. First of all, juicy, tender, sweet, and delicate shrimp is just automatically really SOS-friendly because it's so...
Creamy Garlic Sun-Dried Tomato Pasta
This recipe is sponsored by DeLallo ALERT ALERT ALERT! Only a small amount of time and a few ingredients stand between you and a skillet full of creamy, garlicky, flavorful, romantic, and dangerously good pasta. Tender...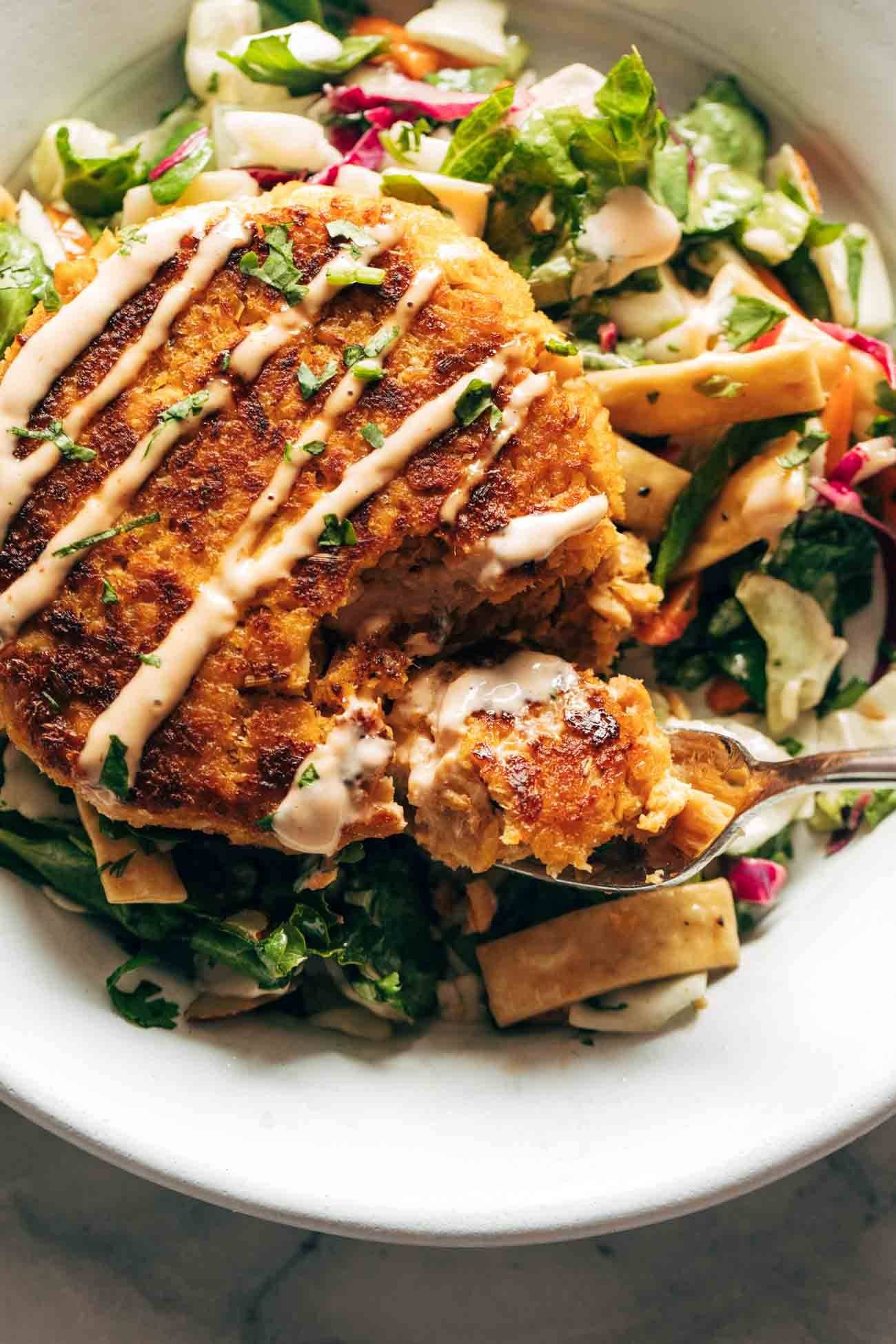 Spicy Salmon Burgers
How secretly great are salmon burgers" They are golden brown, crispy, spicy, barely sweet and savory little bundles of flavor. You can serve them on a fluffy brioche bun with some spicy mayo and slaw, or just go bun-less and...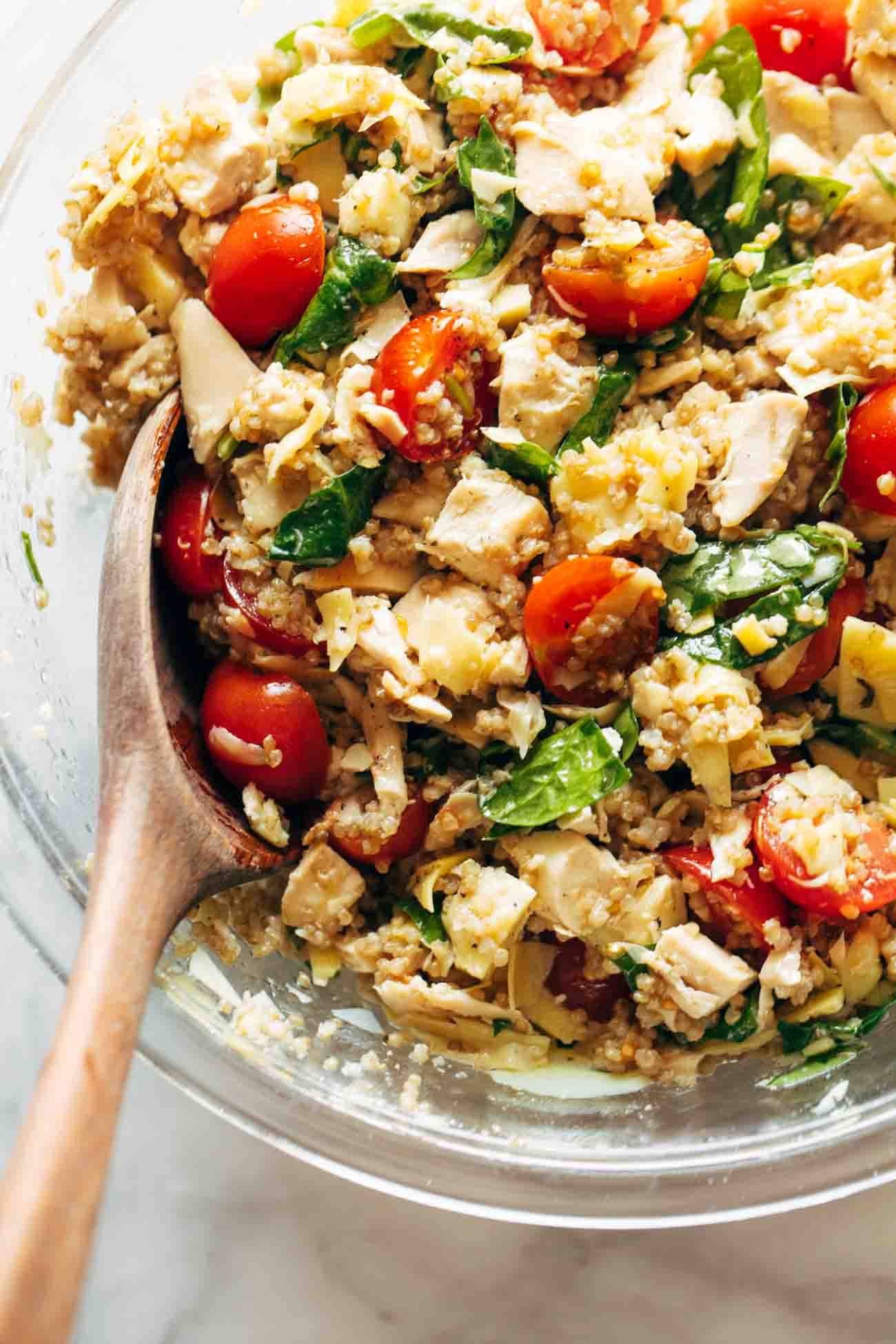 Basic + Awesome Chicken Quinoa Salad
Hello. Meet your new salad crush. She's a tasty one, full of happy little grape tomatoes and shredded bits of artichoke (!!) all snuggled in nicely between bites of tender chicken and fresh spinach, with quinoa and a yummy...
Black Pepper Stir Fried Udon
So what happened was: I fell into a bit of a takeout habit. On a whim, I added the veggie udon to our order from our sushi place (treat yourself) and a love story was born. I found myself unable to stop thinking about the...
The Absolute Easiest Spinach and Artichoke Pizza
Yes, ten minutes. This pizza, with its bites of creamy garlic-herb sauce, layered with artichokes, fresh spinach, and pockets of sun-dried tomato pesto all under a blanket of gooey, melty cheese, is most definitely as...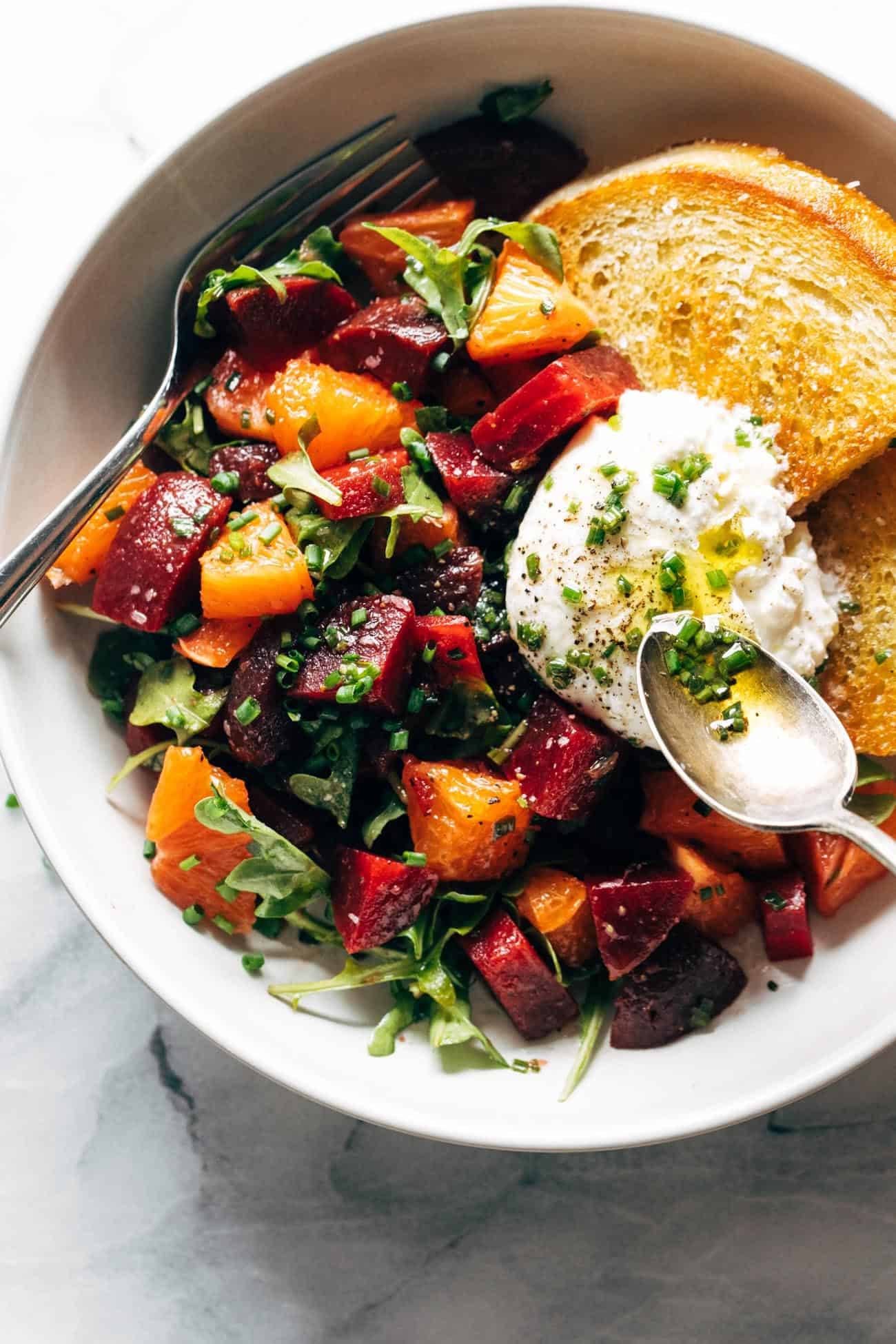 Beet and Burrata Salad with Fried Bread
Here's the thing, though: this is just my life now. That picture of the vibrant juicy beet and orange goodness, slicked with dressing and scooped up with a hunk of creamy burrata on a bite of crispy fried sourdough" That...
Harissa Meatballs with Whipped Feta
Here's a stunner for you. You are looking at a big ol' bowl of store-bought wonders such as hummus, olives, and pita bread, topped with a pile of meatballs (also store-bought! SOS life) that have been coated in a quick...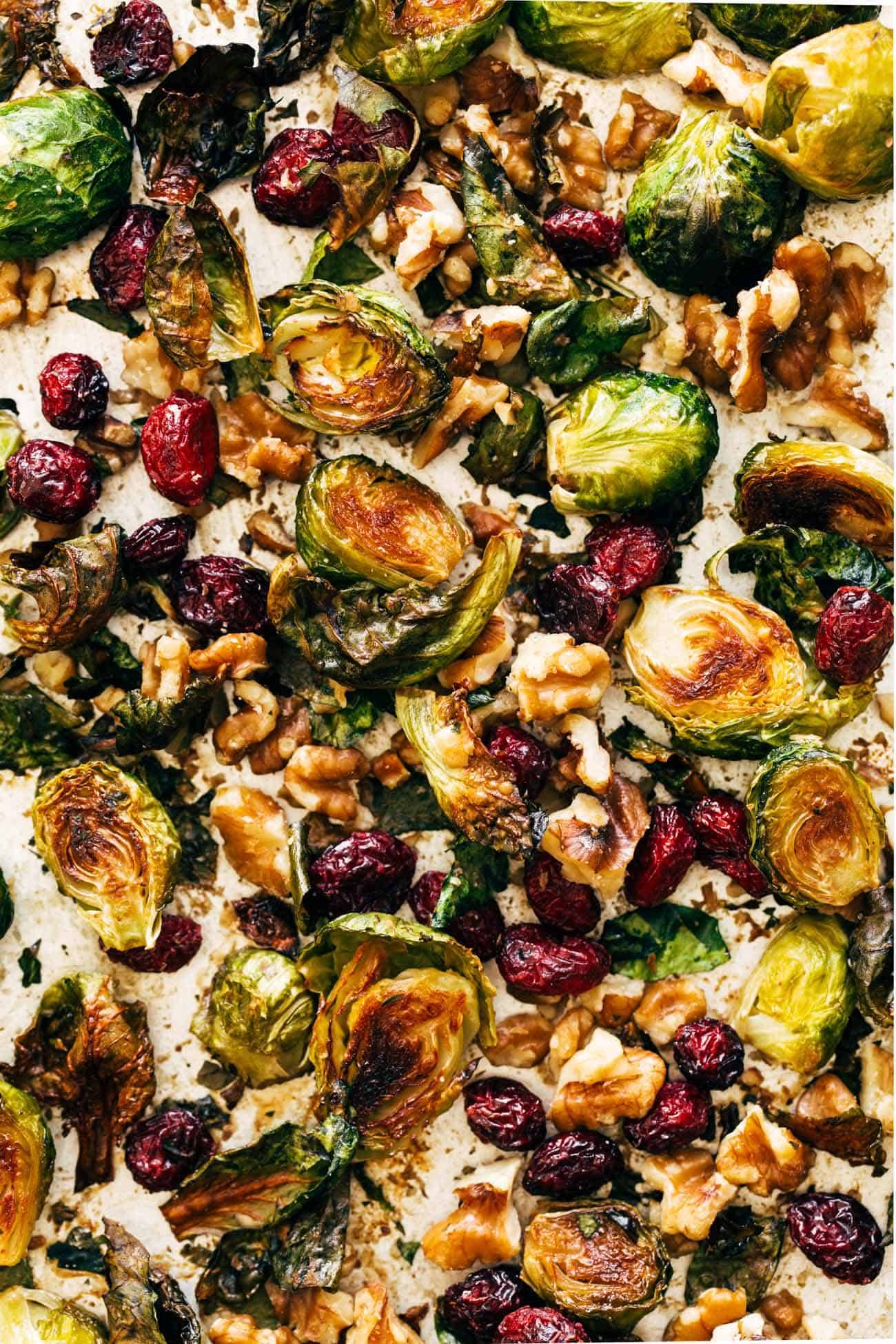 House Favorite Brussels Sprouts
Let's talk about these roasty, sweet, nutty brussels sprouts that combine those tender-crisp, whole-brussel bites with the ultra thin and crispy leaves, all coated with a lil' mustard-maple drench and speckled with juicy bites of...
Instant Pot Chicken and Dumplings
Hello! Let's put a chopped-up trio of celery, carrots, and onions, potatoes, chicken, spices, and pre-made – yes, I said it – pre-made biscuits in the Instant Pot and call it dinner. The bakery in my hometown was famous...
Sheet Pan Shrimp and Cauli Rice
This recipe is sponsored by ALDI ? Yum to the yum to the yummy yum yum! We're loading a sheet pan with cauliflower rice and roasting it up with some sun-dried tomato pesto, throwing some juicy shrimp on top and a...