The SOS Series 2.0 Recap
How did that happen"! This series has been a total joy ride and it has absolutely flown by. Didn't we just start" And here we are at the series close-out reflecting on the good times and handing out recipe awards and saying tearful...
Incredible Vegan Mac and Cheese
Dear mac and cheese lovers of the world, It's my pleasure to introduce you to this wonderfully creamy, silky, and buttery mac and cheese that is totally vegan and most importantly, totally delicious. This is such a...
Fall Favorite Maple-Mustard Tempeh Bowls
Hello lover. Like, wow, really, HELLO. This salad is my absolute fall favorite, but also summer favorite, and winter favorite, and every season favorite. It's a bowl of feel-goodness that starts with kale massaged with...
30 Minute Vegetarian Meatballs
Here they are! The meatballs of the hour that are, in fact, not meatballs. Because they are VEGETARIAN MEATBALLS! Made without beans (!!) and without nuts (!!) but featuring cauliflower and brown rice and quinoa. I...
Three Cheese Baked Gnocchi with Spinach
This recipe is sponsored by DeLallo. Tender gnocchi blanketed in a creamy tomato sauce, speckled with fresh spinach and bites of melty cheese – capital G to the orgeous! This recipe is a new fave around here...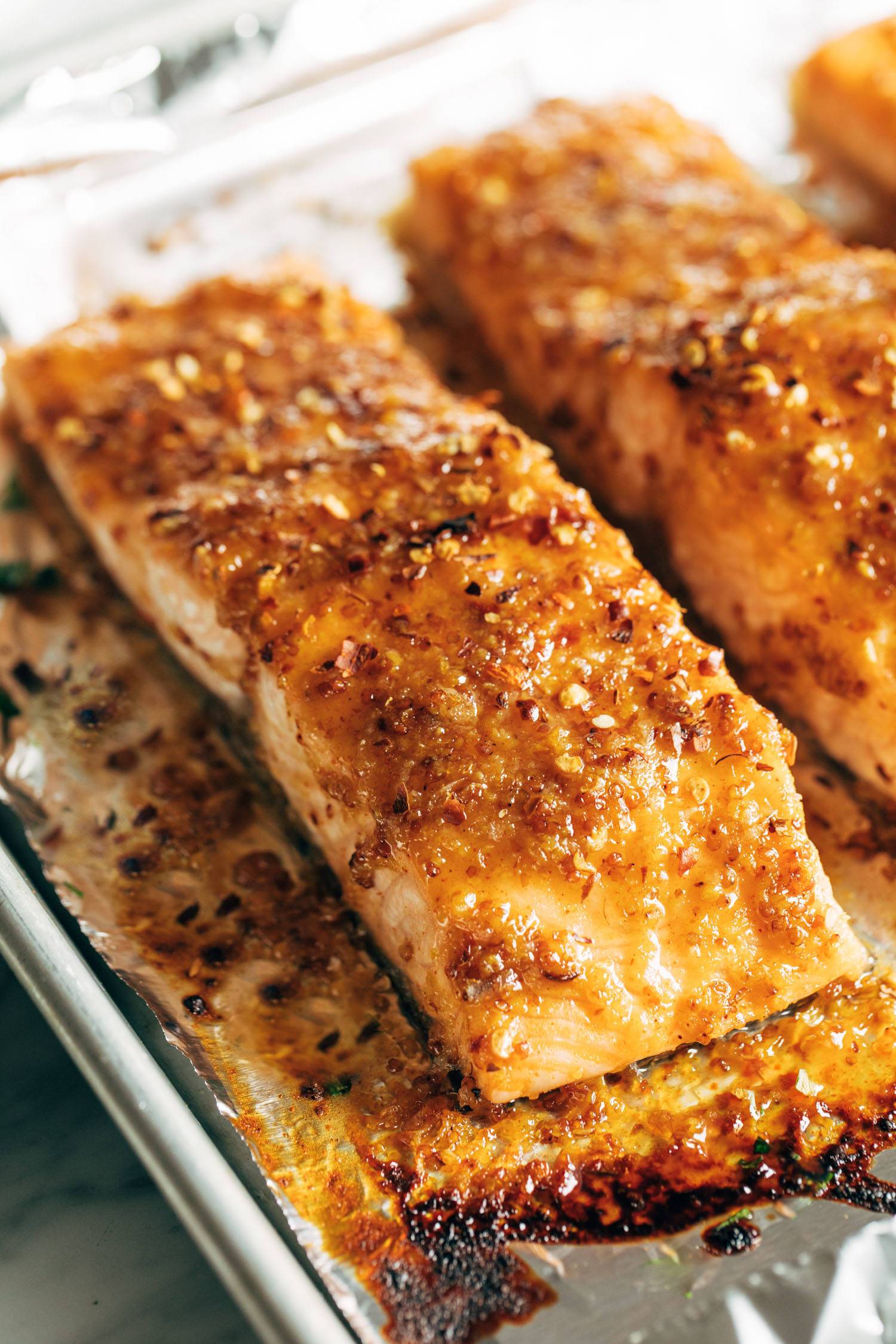 Hot Honey Salmon
What looks fancy but actually comes together super quickly and makes you feel like A BOSS with all that big, feisty flavor" It's this. It's Hot Honey Salmon. And it's here for us because this is the SOS series, and...
How To Cook Perfect Rice
It?s really hard to get any better than fluffy, perfectly steamy rice as a vehicle for all your favorite curries or bowls or sides or burrito guts or…whatever pairs-well-with-rice friend you can think of. Unless, of course, you...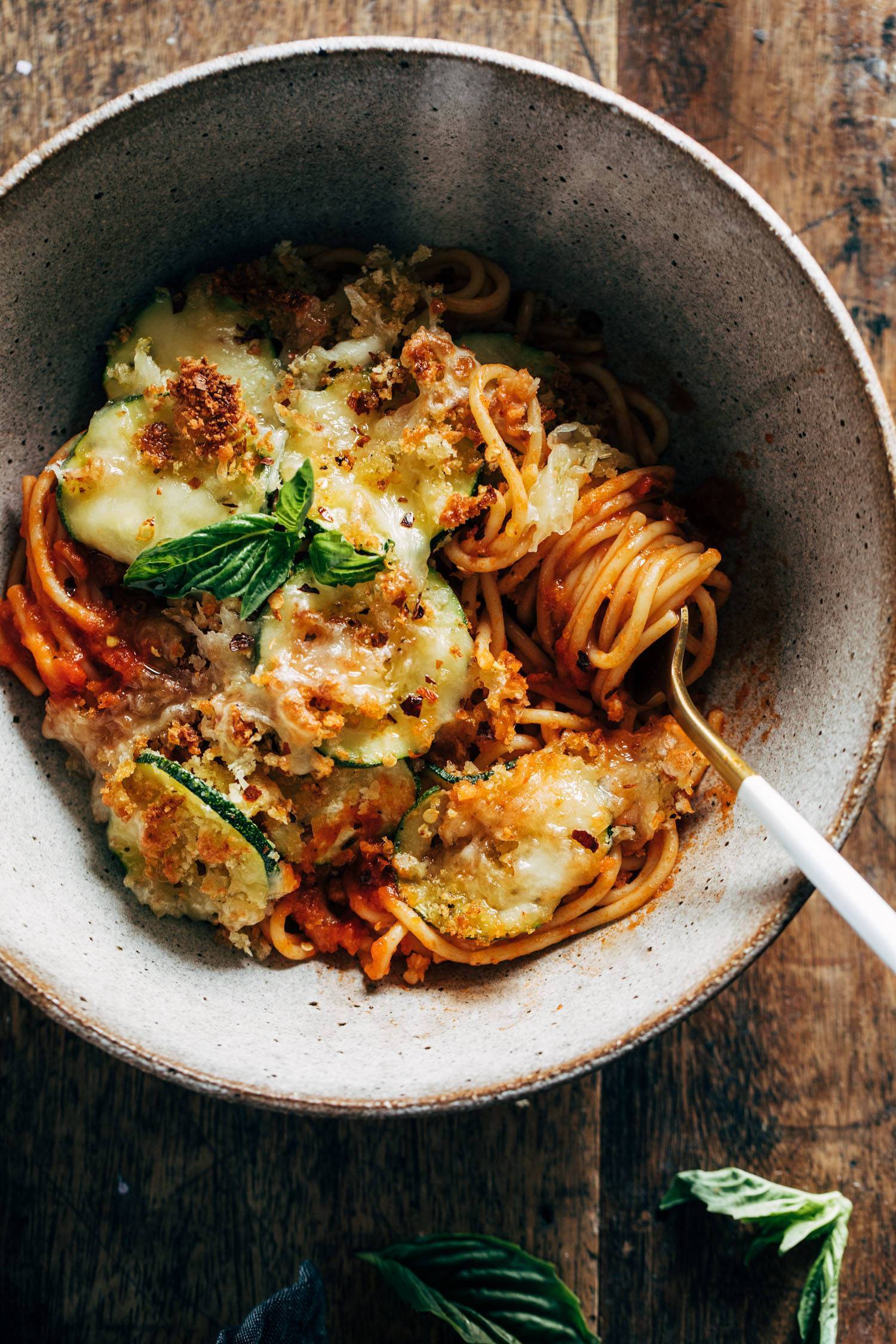 Spaghetti with Crispy Zucchini
Hi-ho! It's crispy zucchini spaghetti day, which means a big happy plate of steamy, twirly, saucy spaghetti (nothing too fancy here) piled high with roasty zucchini pieces surrounded by crispities of golden panko layered with a...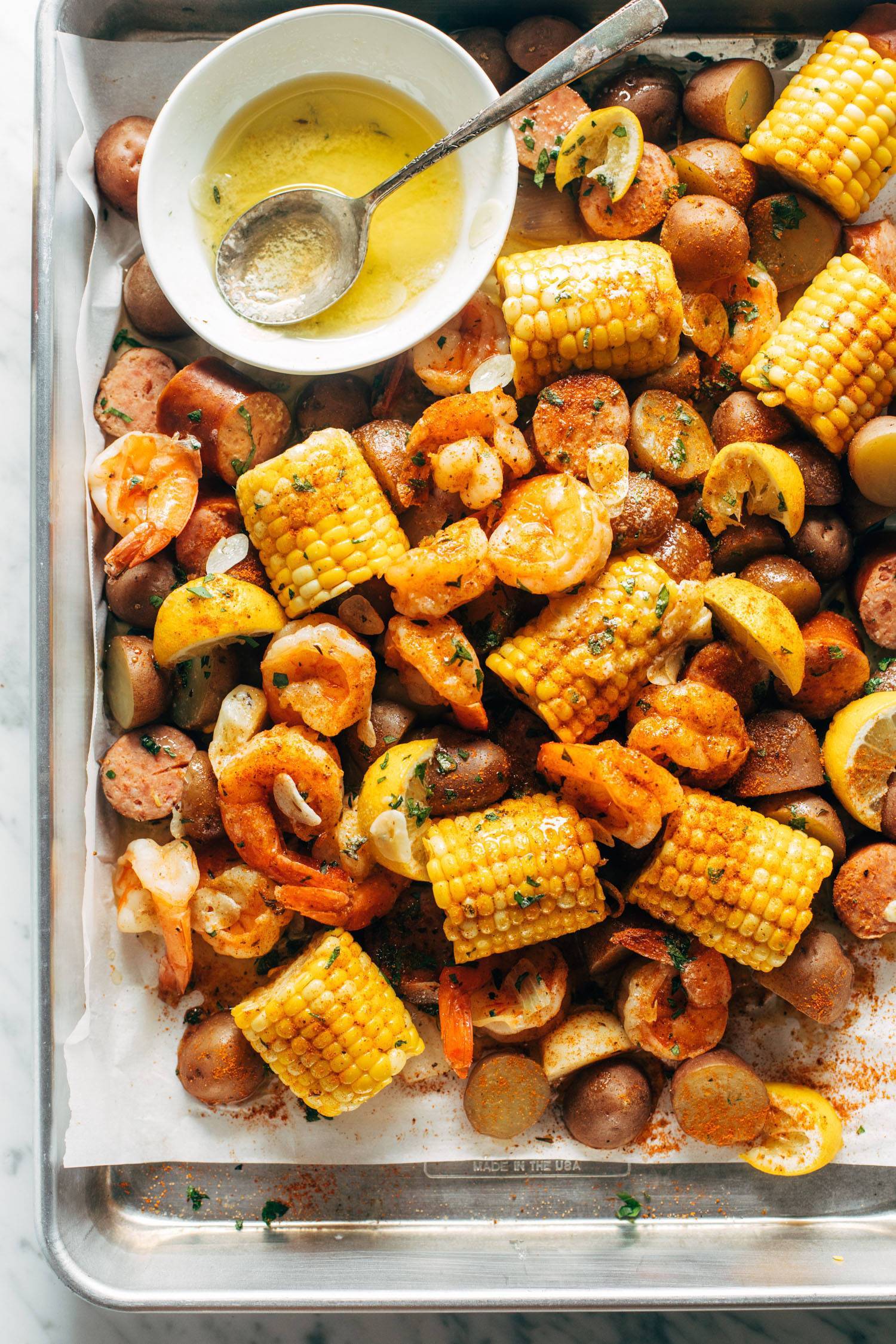 Garlic Butter Shrimp Boil
Hello! Here is what I think we should do: Boil shrimp, summer sweet corn, baby red potatoes, and kielbasa sausage in a big pot. Drain it all out and pour onto a table, platter, or big roasting pan. And now...
Liz's Roasted Broccoli Salad
Here's the thing I want you to know about this roasted broccoli salad: It's quite possibly my favorite way I've ever eaten broccoli in my life. My friend Liz introduced me to this salad, which was introduced to...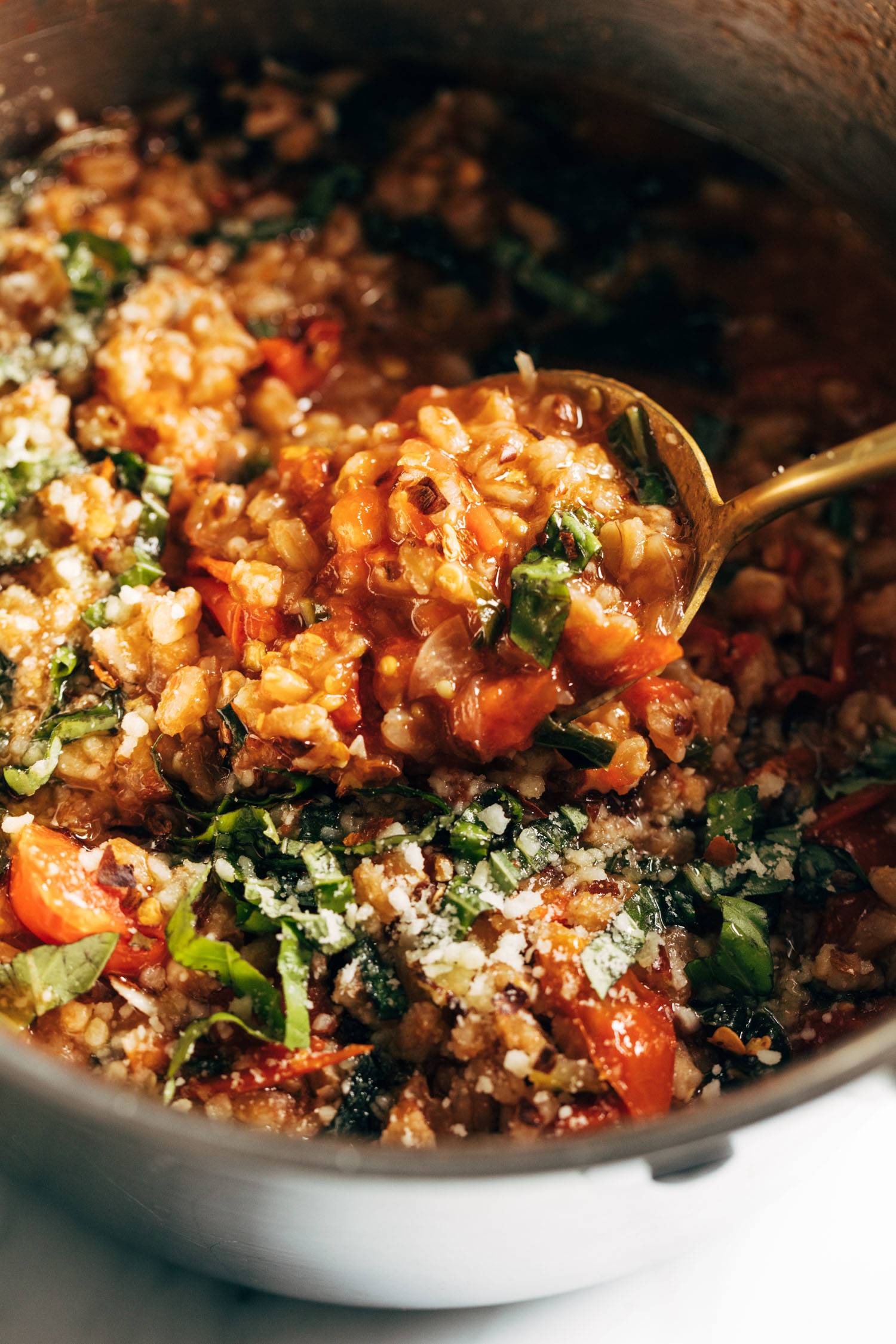 One-Pan Farro with Tomatoes and Kale
If the goal is maximum flavor, incredible texture, satisfying and wholesome ingredients, and LOW KEY cooking, this is the one-pot unicorn that checks every single box. This recipe is amazing. It seems humble and slightly too...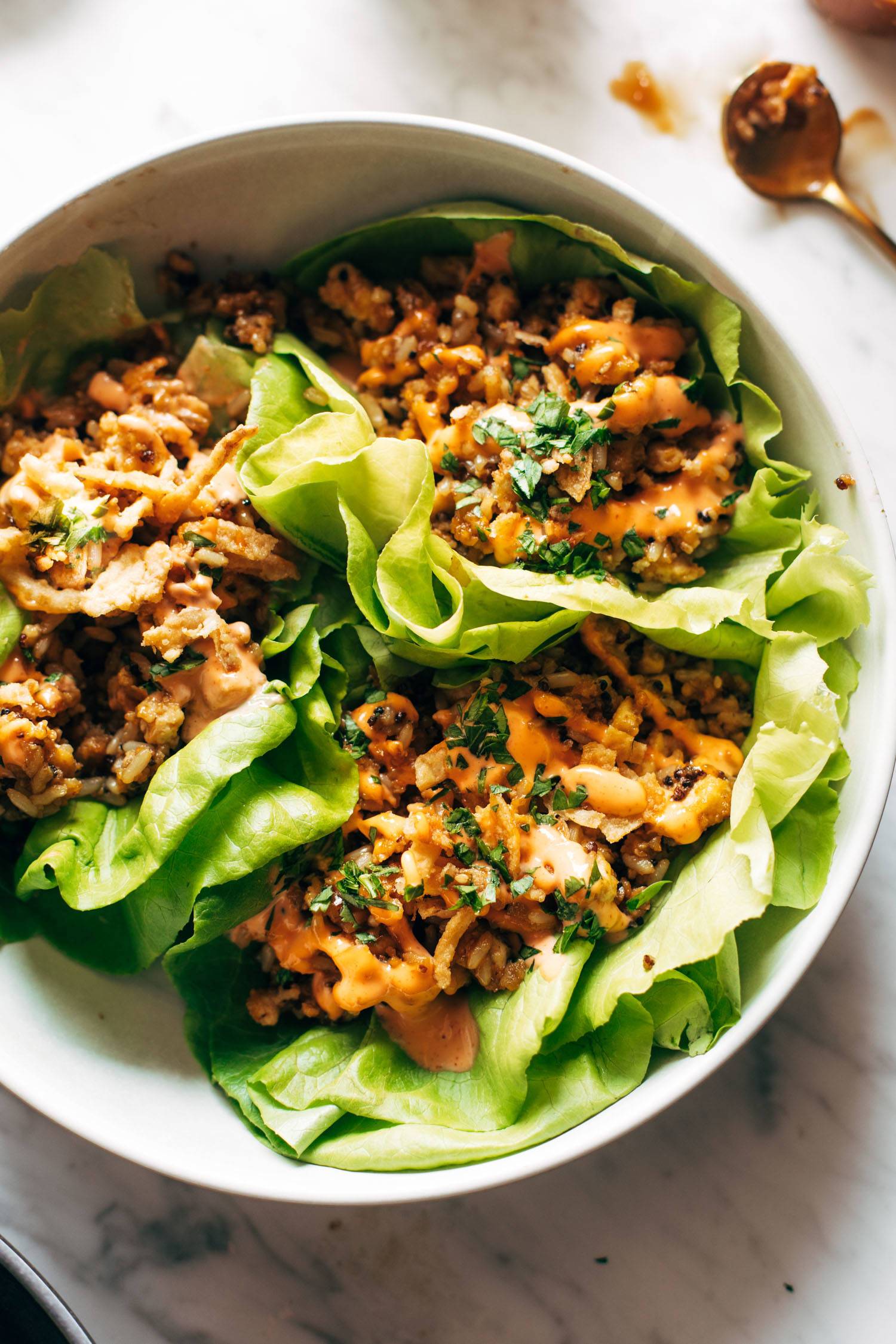 Tofu and Brown Rice Lettuce Wraps with Peanut Sauce
How much do I love a quick pan-fried crumbled tofu and brown rice filling, coated in peanut sauce, tucked into tender little butter lettuce leaves, and crowned with a drizzle of spicy mayo and – obviously – a couple little...
Coming Soon: SOS Series 2.0
Hello, hello, friends and food-lovers! I'm coming to you with exciting news today: The SOS Series is coming back! YES! I KNOW! I'M SO EXCITED, WHICH IS WHY I'M USING ALL CAPS AGAIN! Mark your calendars because...