Baked Salmon with Amazing Lemon Sauce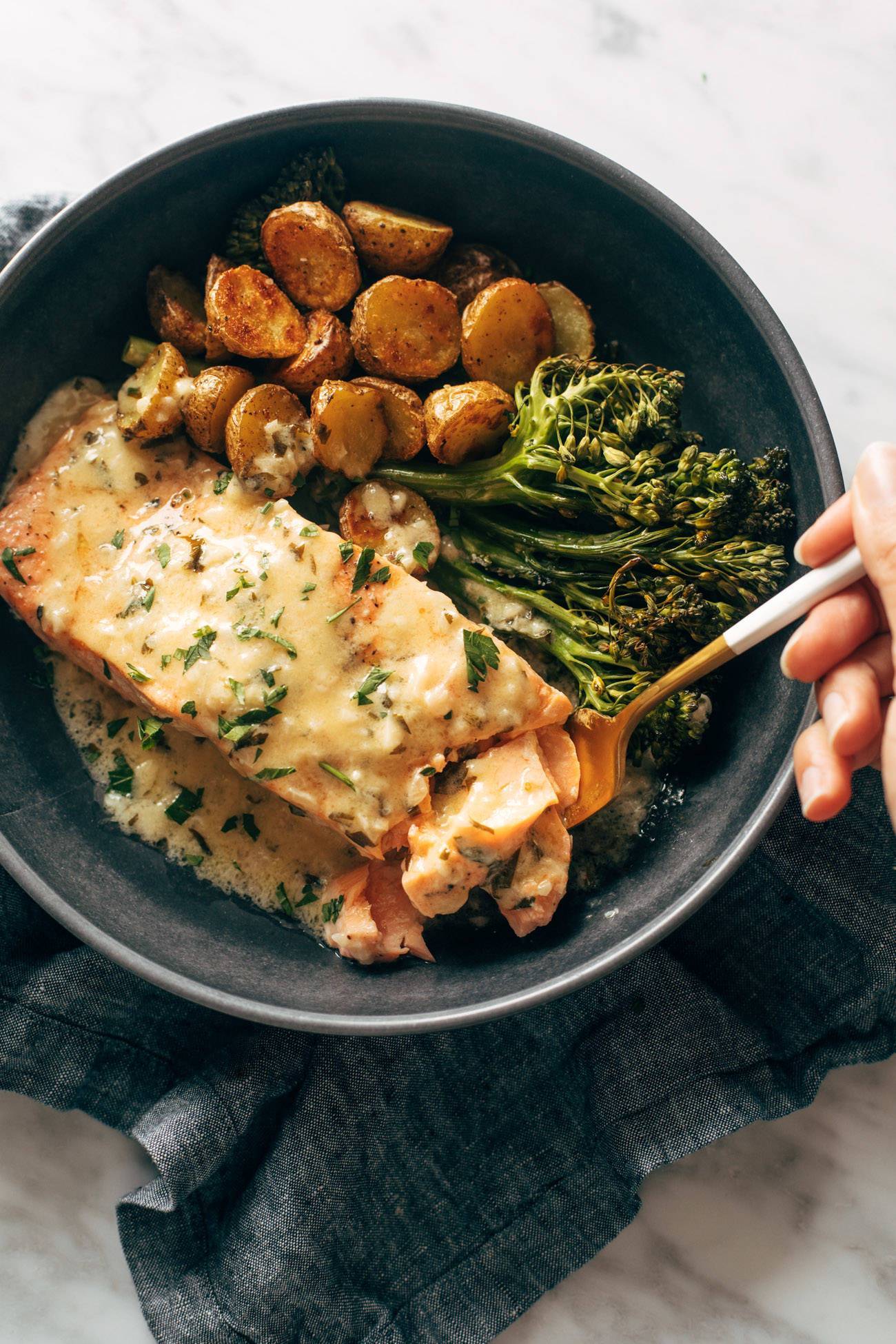 Crispy golden brown roasted potatoes: HELLO yes.

Tender baby broccoli with a little crunchy char: check check.

Baked salmon, simply salted, peppered, brushed with olive oil, and baked to flaky perfection: absolutely.

And enter -> the herby, creamy, lemony lemon sauce. Yes, yes, and y-e-s. Everything else is delicious, but if we're being honest, it really just serves in the supporting role for this sauce.

This lemon sauce is a showstopper. It's creamy and rich and light all at the same time. It starts with shallots and gets infused with a few sprigs of fresh thyme and finished with a little sizzle of lemon juice, and it feels like there should be more to explain but really, that is the beauty of it. It's simple and it's got really beautiful, gentle, universally delicious flavor and just MWAH.
Anyone Can (and Should) Make This

Bjork, God bless him, doesn't cook at all, like, ever. He has made dinner maybe twice in ten years. He does so many things for our family; cooking is just not one of them. But as of this last month, that same Bjork has now been making this baked salmon for dinner. THIS IS MAJOR HEADLINE NEWS.

Bjork's dinner night = we get flaky, buttery baked salmon, roasted broccoli, crispy potatoes, and that amazing lemon sauce.

And me = happy, happy, happy.

If you can just block out the bibs and highchairs, pauses to cut broccoli, incessant toddler questions, occasional baby giggles, and m...
URL de la Fuente:
http://pinchofyum.com/
--------------------------------
Cucumber Subs 4 Ways