Eggplant Unagi Donburi ????????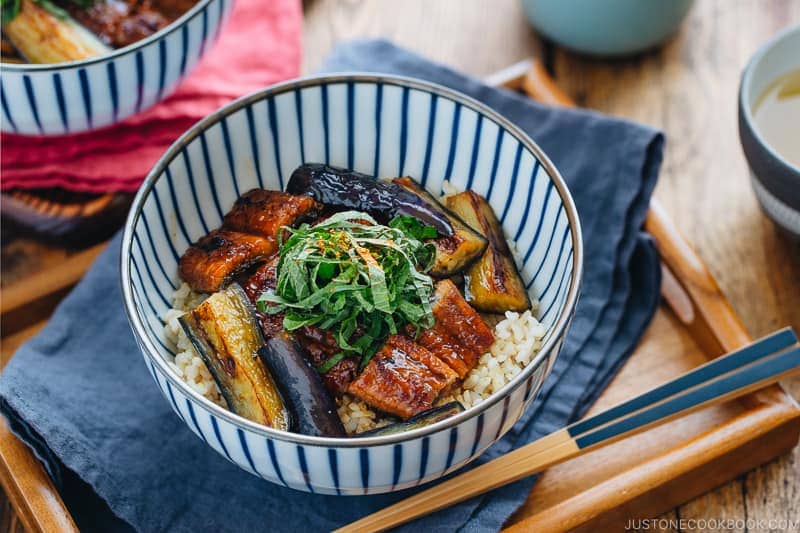 Hearty and savory rice bowl with unagi (eel) and eggplant! A really great rice bowl that won't disappoint, this Eggplant Unagi Donburi is also easy to make and packed with amazing flavors. 

Rice bowls are lifesavers for everyday dinner, be it a hectic weeknight or lazy Friday night. Today's rice bowl – Eggplant Unagi Donburi (????????) is a little luxurious yet simple enough to pull it together when you need dinner fast on the table. The sweet meat of unagi, tender eggplant, fluffy steamed rice, and the most tantalizing sauce all in one bowl. You'd be in for a treat!

Economical Way to Enjoy Unagi
If you are like us who enjoy eating unagi, you have probably noticed that the price of eels has been skyrocketed in recent years. It used to be a relatively inexpensive ingredient, but now it has become a highly prized food. With today's recipe, you cut down on the serving of unagi yet you won't feel like you're missing out. I use 2 tricks:

Use eggplant to bulk it up
Use delicious unagi sauce to coat everything ?

Why eggplant, you may ask" Well, eggplant has a meaty and tender texture once it is cooked, and best of all is its ability to soak up the delicious sauce like a sponge. Not a fan of eggplant" You can use another meaty ingredient like portobello mushrooms. But do give eggplant a try first. You'd be surprised how complementary eggplants are with unagi.
And here comes my second trick. When you smother everything in...
URL de la Fuente:
http://www.justonecookbook.com
--------------------------------
Homemade Fancy Steak Dinners ? Tasty Recipes