Ginger Pork Rolls with Eggplant ??????????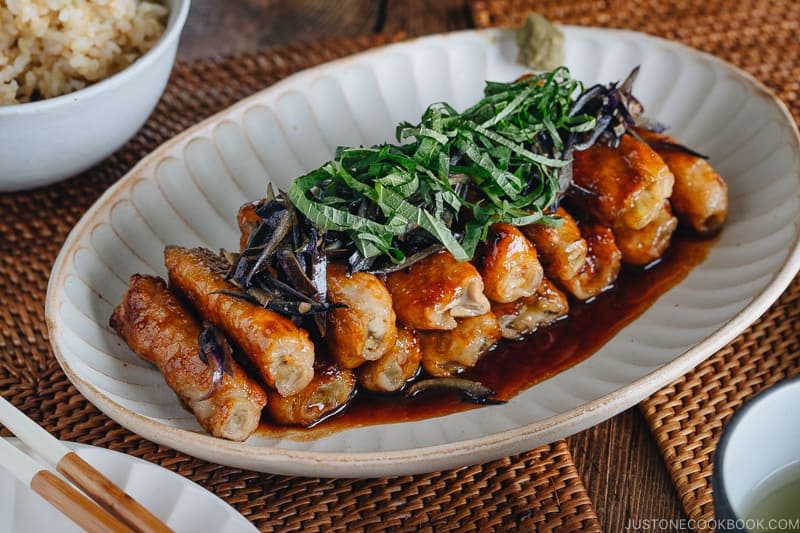 Coated with a sticky, sweet, and savory ginger sauce, this Ginger Pork Rolls with Eggplant recipe makes the tastiest weeknight meal for the family. 

One of the delicious combinations of food I enjoy is pork, eggplant, shiso leaves, and ginger-based sweet soy sauce. Today's recipe – Ginger Pork Rolls with Eggplant (??????????) is in every way the marriage of all these ingredients. As a result, you get a homey and tasty dish that goes amazingly with rice.
Quick Weeknight Meal with Ginger Pork Rolls with Eggplant
This pork roll recipe is very simple and easy to make, and I especially love that it is super bento-friendly. The kids get vegetables and meat together, and with a delicious savory sauce that even at room temperature, the pork rolls are still delicious by lunchtime. You will be surprised by how fast it can be put together and the complexity of the flavors it offers!

Thinly Sliced Meat in Japanese Cooking
Many of you have asked me what Japanese people eat at home that we don't eat at restaurants. Well, pork or beef rolls like today's recipe is definitely one of the examples of food we eat at home. An honest-to-goodness kind of food that our grandmothers and mothers cook for the family.
Japanese don't typically consume a lot of meat, so it's not common to cook a whole chicken or a big block of pork or beef. Instead, we eat a whole range of foods, rice or noodles for carbs, plenty of vegetables and soy-based foods like tofu, seafood ...
URL de la Fuente:
http://www.justonecookbook.com
--------------------------------
How to Decorate Pies! | Baking Recipes and Ideas by So Yummy
-------------------------------------