Teriyaki Steak Rolls ???????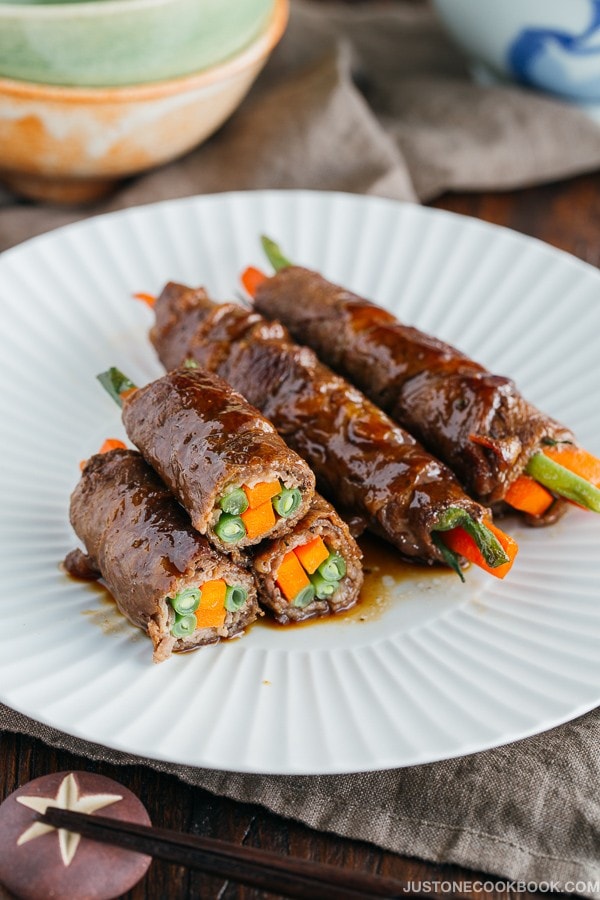 Savory pan-seared teriyaki steak rolls with veggies and glazed with homemade teriyaki sauce.  This Japanese home cooked dish is great for dinner and bento!

Teriyaki Steak rolls or Beef Rolls (????) are staples in Japanese home cooking and bento recipes.  As thinly sliced beef and pork are essential for authentic Japanese cooking, we stuff and roll up various ingredients to make delicious steak rolls.

What Can We Stuff into Steak Rolls"
Well, pretty much anything!  Today's steak rolls are stuffed with carrots and French green beans (haricots verts).  In case you don't like my choices, here are other suggestions I have.  All the following ingredients go well with thinly sliced beef and pork, or even pounded chicken!

Asparagus (recipe)
Bamboo shoot
Bean sprouts Bell peppers
Carrot (recipe)
Cheese
Cherry tomatoes
Chinese chives (Nira)
Eggplant (recipe)
Enoki mushrooms (along with shimeji and oyster mushrooms)
Gobo (burdock root)
Kimchi
Mizuna
Okra
Spinach
Watercress

I've also made rollups with mashed potatoes (recipe) and Japanese potato salad (recipe)!

Where To Get Thinly-Sliced Meat for Steak Rolls"

Japanese grocery stores (as well as Korean and Chinese grocery stores) always carry thinly sliced beef and pork.  We use these thinly sliced meats for hot pot and some main dishes.
If you do not have access to the packaged sliced meat, you can always slice the meat on your own.

How To Slice Meat Thinly
My tutorial above is for pork and beef.  If ...
URL de la Fuente:
http://www.justonecookbook.com/
--------------------------------
Crispy Chicken Teriyaki Rice Balls